Holly Hunt and Cheryl McBride have won the Long Island Biennial 2022 Visitors Choice and Virtual Choice Awards, respectively.  Close to 900 votes were cast in person and online.  Congratulations to the artists on this achievement and thank you to all who voted.  Don't miss the last chance to see Long Island Biennial  in person, open through January 22, 2023.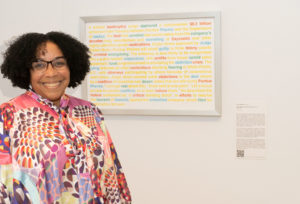 Visitors Choice Award
Cheryl McBride, Opioid Deaths by Race in the US 2017
"Critical thinking is the cornerstone of an educated citizenry," said McBride. "Equally important is the practice of extending empathy—valuing and validating viewpoints different from our own. Inquiry is the training of curiosity for the sake of making discovery and stoking growth from within. Statistics and data help shape how people know the world. It is my hope that I will increase awareness of social inequality by offering my artwork as a way to connect to relevant data in a visually meaningful experience."
Virtual Choice Winner: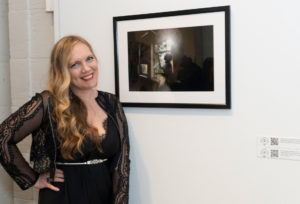 Holly Hunt, The Light
About the digital photograph, Hunt explains, "The Light was captured on a frigid December morning inside an abandoned nursing home. With less than ten seconds to jump into frame, using only natural light, my camera, and a tripod, I captured this self-portrait in a single shot. While The Light simply portrays a woman's silhouette glancing upward at a light, the image represents my ultimate acceptance of myself after a lifetime's culmination of struggles with self-love and self-worth.
This is a repeat performance for Hunt, who also  also won the Virtual Choice Award in 2020, with her work, The Wait, 2019.