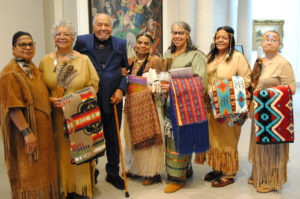 At the Heckscher Museum we are reflecting this month on the power and purpose of honoring Native American Heritage. It is important today and every day to recognize and respect First Peoples and to honor the enduring relationship that exists between Indigenous people and their traditional territories. This is especially important when reflecting on Long Island, whose Indigenous name is Paumanauke, Wamponomo, or Sewanhackey.
There are a variety of ways to celebrate and honor our neighbors this month.
Learn about the works by Indigenous artists in The Heckscher Museum collection. Recent acquisitions include artists of Shinnecock heritage – Richard Mayhew, Jeremey Dennis, and Courtney M. Leonard.  A retrospective of Leonard's work, along with an on-site immersive installation and a brand-new commissioned piece for the Museum, opens in June 2023. Mayhew and Dennis artworks will be on view beginning in January.
Take action by supporting the Montaukett Indian Nation on Long Island. Our neighbors and friends of the Montaukett Indian Nation need our support.  A non-partisan piece of legislation, the Montaukett Recognition Bill S6889/A4069, has successfully been approved in the NY State Assembly and is now heading to the Governor for final passage. The Montaukett Indian Nation has been fighting for this critical official recognition for many years and is asking for your help. Please take a moment to review the petition and fact sheet and then join your name to this effort to help our neighbors achieve the recognition they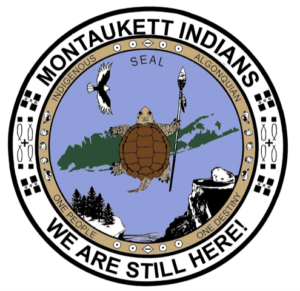 deserve.
Learn about this year's Native American Social on December 3, featuring collection artist Jeremy Dennis, museum cultural consultant Tecumseh Ceasar, Shane Weeks, Dennis Redmoon Darkeem and more.  The annual event features artwork, dancing, drumming & singing, shared stories and community building over refreshments.  Learn more.
Watch the Native Cinema Showcase free through Smithsonian's National Museum of the American Indian (NMAI).  NAMI's Native Cinema Showcase includes 35 films representing 30 Native nations and 10 Indigenous languages streaming online for free November 18-25th. Find the films here.
Land Acknowledgement Statement
The Heckscher Museum of Art is situated on the traditional territory of the Matinecock Tribal Nation, whose presence continues in New York today. We acknowledge the meaning and sacredness of the land for the Matinecock and its sister tribes on Long Island. We recognize histories of land theft, violence, and erasure, as well as the continued disenfranchisement and displacements of Indigenous peoples. We commit to building a more inclusive and equitable museum for all.