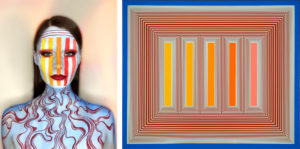 Maris O'Brien, a 2021 Long Island's Best exhibiting artist, has found a passion and a large following through an unique use of her art: body painting.
The Museum immediately spotted an opportunity and gave Maris a challenge: could she transform herself into one of the paintings in The Heckscher Museum Celebrates 100 using body paint? Of course!
With artist Richard Anuskiewicz's work as inspiration, Maris used the bold lines and colors in the artwork Temple of Ochre, 1982, to transform her look.  Watch the process.
A pioneer of the Opt Art movement, Anuszkiewicz (1930-2020) aspired to create optical drama by juxtaposing vibrant hues. As seen in Temple of Ochre, the nearly psychedelic effect of the artist's high-intensity chromatic contrasts enlivens the simple geometric forms that constitute the painting.  Some of the vertical rectangles at the center of the work seem to recede and some to pop, only because of their color. The repetition of nested rectangular creates a dizzying illusion of depth.
Maris began body painting watching YouTube videos at 13, while still pursuing traditional art at school. Her talent helped her hobby become lucrative when she began to collaborate with artists and brands such as NYX Professional Makeup, and then continued to rack up Instagram followers. Follow her @mariscaitmakeup to see more of her fascinating work.
"Usually, much of my inspiration for body paint comes from pop culture, many of my looks deriving from comic characters, sci-fi, video games, and television. I love painting myself into the characters I look up to because it's like stepping into their shoes for a brief amount of time," she noted.
Her fine art on the other hand is mostly inspired by a love for nature and a desire to capture all the details she finds in her surroundings.
"In the future I want to continue my pursuits with both makeup and fine art. I want to further build my platform on TikTok and other social media as well as strengthen my skills with traditional painting. Art is my life and it makes me so happy knowing I have opportunities arising while doing what I love most in the world,"
Maris is currently studying painting at the Savannah College of Art and Design.