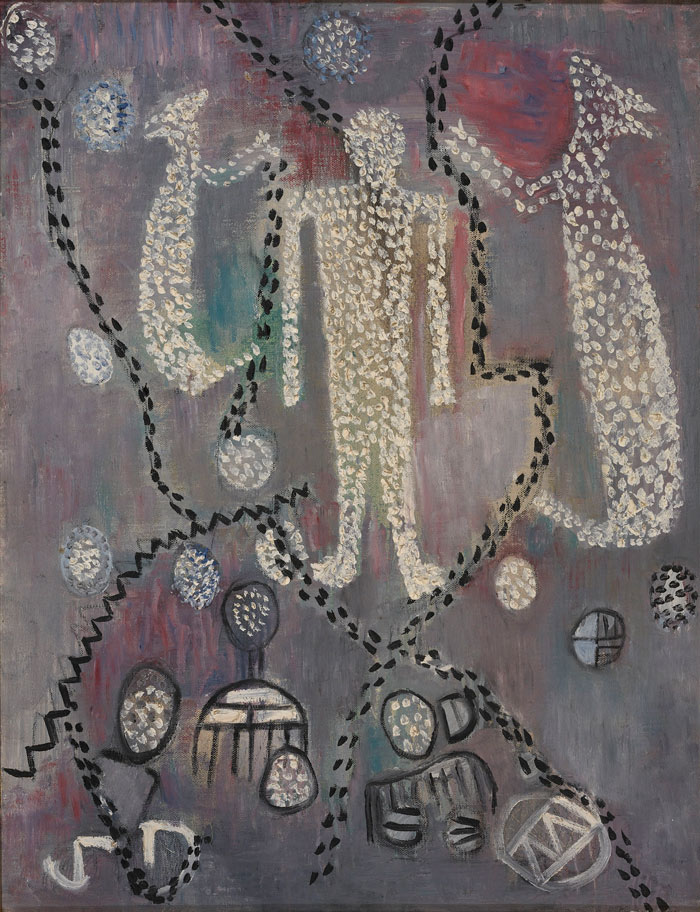 In earliest times painting was magical; it was a key to the invisible. In those days the value of a work lay in its power of conjuration, a power that talent alone could not achieve. Like the shaman, the sybil and the wizard, the painter had to make himself humble, so that he could share in the manifestation of spirits and forms. The rhythm of our life today denies the primordial principle of painting: conceived in contemplation, the emotional content of the picture cannot be perceived without contemplation. — Alice Rahon, Willard Gallery Exhibition Catalogue, 1951
La Conjuration des Antilopes (1943) by Alice Rahon (1904-1987) reflects the artist's fascination with prehistoric and non-Western art. In the 1930s, Rahon was active in the international Surrealist circle in Paris, where she authored three poetry collections: A même la terre (On the Bare Ground) (1936); Sablier couché (Hourglass Lying Down or Sleeping Hourglass) (1938); and Noir Animal (1941). She also traveled the world with her fellow artists. In 1933, she visited the prehistoric cave paintings at Altamira, Spain at the suggestion of Joan Miró. She visited Alaska and British Columbia in 1939 with artist Wolfgang Paalen and photographer Eva Sulzer to study the indigenous cultures of the Pacific Northwest. Later that year, fleeing World War II, she immigrated to Mexico.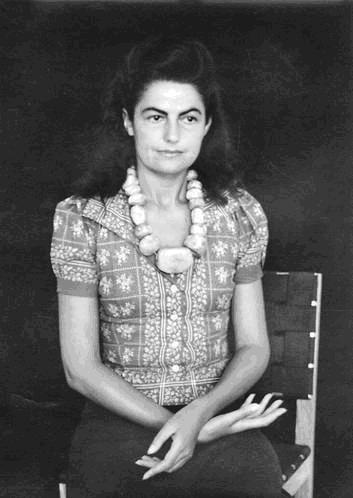 As the quote above indicates, Rahon was interested in the role of the imagemaker in ancient times. Cave art and petroglyphs are two of the inspirations for her painting La Conjuration des Antilopes. The work centers on the silhouette of a humanlike figure and the profile of two animals. Constructed of white dots of paint, they have an ethereal presence. Lines of black marks meander across the composition and connect with the feet of the figures, suggesting tracks, while the many circles may relate to the rock incisions that Rahon saw in Wrangell, Alaska. The atmospheric background of purple, pink, and blue evokes the otherworldly space of the subconscious or deep time.
An inscription on the back of La Conjuration des Antilopes reads: "à mes amis Tatyana et Alex / N.Y 45." This indicates that Rahon sold or gifted the painting to Tatiana and Alexander Liberman while in New York City, possibly at the time of her Spring 1945 exhibition at Peggy Guggenheim's Art of This Century gallery. Alexander Liberman, the art director of Vogue at the time, was friends with the grandson of The Heckscher Museum's founders. This connection may explain Liberman's decision to give the Museum more than twenty artworks, including Rahon's La Conjuration des Antilopes.
Explore further:         
La Conjuration des Antilopes will be included in the upcoming exhibition The Heckscher Museum Celebrates 100: Tracing History, Inspiring the Future, but it is in need of conservation first.  Learn more about how to "adopt" this work of art.
View all of the art Mr. and Mrs. Liberman gifted the Museum.
Visit the Museum of Contemporary Art North Miami's virtual exhibition Alice Rahon: Poetic Invocations.