In a career that spanned 70 years, Russian-American artist Esphyr Slobodkina (1908-2002) championed American abstraction. She was a gifted and innovative artist and is also well-known as the author and illustrator of the beloved children's book Caps For Sale, published in 1940, as well as over 20 other books. Slobodkina was a founding member of the influential American Abstract Artists group. 
Born in Siberia and displaced by the Russian Revolution, Slobodkina came to the United States in 1928, where she enrolled at the National Academy of Design in New York City. There she met fellow Russian artist Ilya Bolotowsky, and they were married in 1933. Although Slobodkina's early stylistic progression was most influenced by Bolotowky, she was also inspired by European Modernism, which she likely saw at Albert E. Gallatin's Gallery of Living Art in New York City. Established in 1927, by 1933 the collection included modernist work from Cézanne to Cubism, Constructivism, and De Stijl.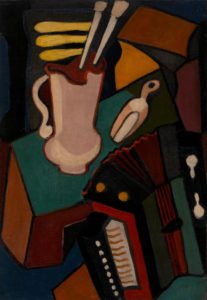 When looking at Slobodkina's Still Life with Accordion (1934) and Levitator #1 (1950), we see similarities and differences that demonstrate both the continuity and the development of her career. In addition to their similar palettes, both pieces are tilted, energetic compositions with strong diagonals and stylized graphic forms. Yet the differences between these two works highlight the evolution of Slobodkina's painting style. Still Life with Accordion is representative of the transitional phase of her work, bridging her early Impressionist style and her later abstraction. It shows the impact of Cubism, particularly the work of Juan Gris. The objects are identifiable, yet almost completely flattened, with minimal dimension. The skewed geometric space and varying vantage points, though less dramatic than in the work of the French Cubists, vividly demonstrate Slobodkina's incipient exploration of modernism.  
By 1950, Slobodkina was living and working in Great Neck, Long Island (she purchased a home there in 1948). Uninterested in Abstract Expressionism, the artist focused on tightly controlled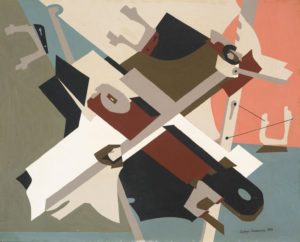 paintings with a harmony of strong lines and areas of pure color. Levitator #1 typifies these paintings, which incorporated mechanical motifs as well as suspended and interlocking geometric shapes. No doubt her early training in engineering and architecture, as well as her experience as a dressmaker, influenced this style. While abstract, we can recognize the parts and dynamism of an airplane-type machine within Levitator #1. Diagonal lines imply movement, and the overlapping shapes create the illusion of three-dimensional space, where areas of color appear to come forward or to recede.
Slobodkina's love of creative expression is evident through the wide variety of artistic media and related fields in which she worked, such as interior design, architecture, textiles, millinery, jewelry-making, and (with her mother) couture dressmaking. Using diverse materials and techniques, Slobodkina also created collages and assemblages, constructed from plain or painted wood shapes, wire, hinges, and scrap elements. 
Esphyr Slobodkina's paintings and sculptures appear in notable private and public collections, and public facilities around the country contain her murals. In 1997, she donated 65 of her artworks to the Heckscher Museum, which presented exhibitions curated from this gift over the next two years. The Museum commemorated Slobodkina with a memorial exhibition in 2003, and in 2009 the institution was a venue for the largest traveling retrospective of her work to date.