VIEW MORE EXHIBITIONS
Wood Gaylor and American Modernism
January 23, 2021 - May 23, 2021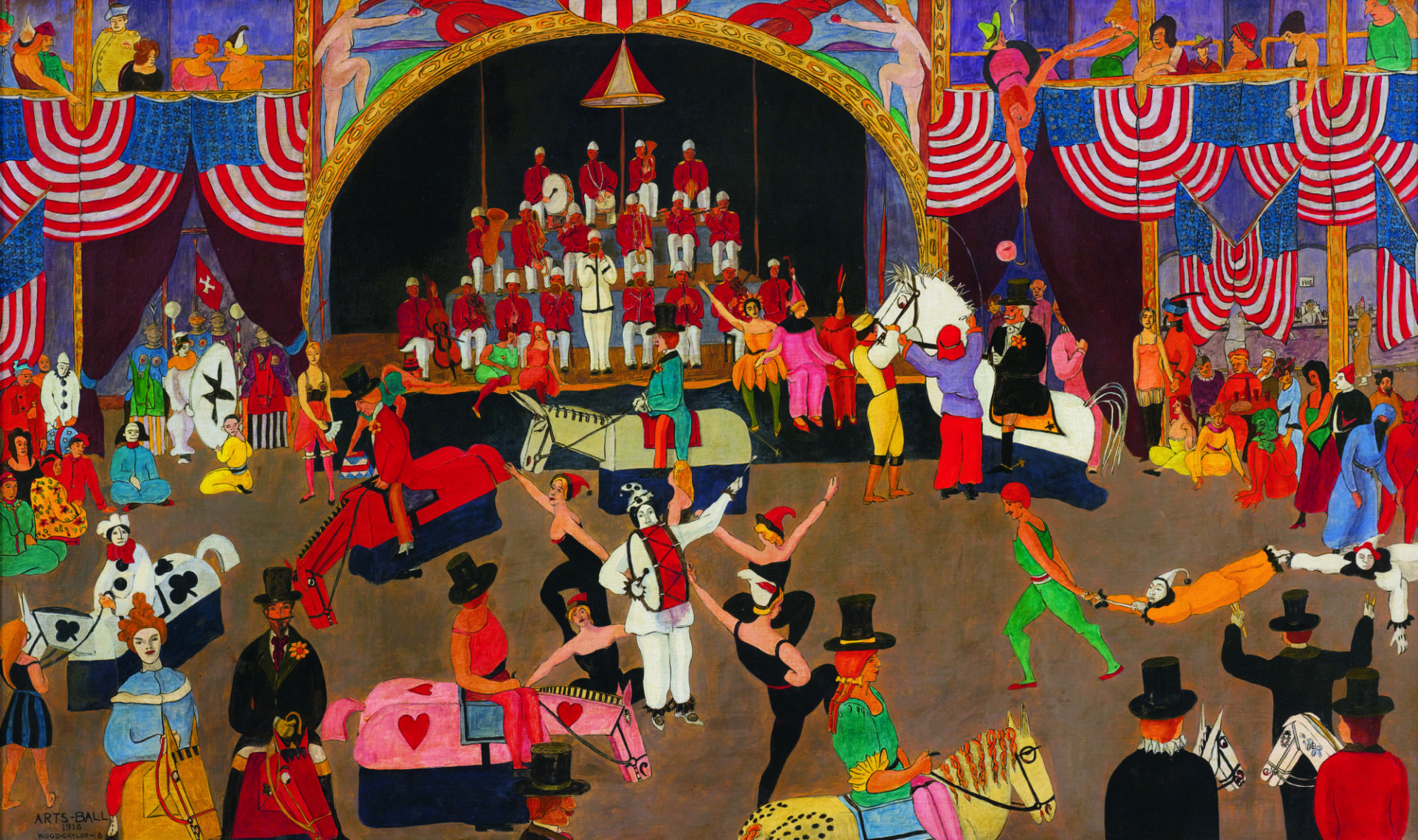 Samuel Wood Gaylor (American, 1883-1957)
Arts Ball, 1918, 1918
Oil on canvas, 27 x 45 in.
Private Collection
Teeming scenes of festive revelers, clowns and performers, and his fellow artists are the signature subject matter of Wood Gaylor's raucous paintings. In 1916, Gaylor (1883-1957) joined Walt Kuhn and other prominent modern artists in New York City to form The Penguin group. The irreverent association put on exhibitions, held weekly sketching sessions with nude models, and mounted fantastic Arts Balls, complete with costumes, comical skits, musicians, and papier-mâché props. Gaylor captured these spirited events in paintings featuring brightly-colored, flat, outlined figures in grand spaces.
Wood Gaylor and American Modernism includes two dozen artworks by Gaylor, including paintings from the Smith College Museum of Art, the Ogunquit Museum of American Art, the Portland Museum of Art in Maine, and the Whitney Museum of American Art. These loans are interspersed with paintings, sculptures, and drawings from the Heckscher Museum's collection by artists in Gaylor's social and artistic circles.
Throughout the 1920s, Gaylor spent summers in Ogunquit, Maine, where he and other artists became some of the first collectors of American folk art. The flattening and distortion in early American painting provided affirmation for Gaylor's faux-naïve style. The personal relationships Gaylor developed in Maine were among the most significant of his life, including his marriage to fellow artist Adelaide Lawson, whose work will also be on view.
Gaylor continued to organize and depict grand events of the New York art world throughout the 1920s and into the mid-1930s, when he and his family relocated to Glenwood Landing on Long Island. They held exhibitions and art classes in their barn and yard, as depicted in Painting Lesson on the Lawn (ca. 1952).
This exhibition is organized by the Fleming Museum of Art, University of Vermont. The Heckscher Museum is grateful to Bernard Goldberg Fine Arts, LLC, for supporting this exhibition and the accompanying catalogue.