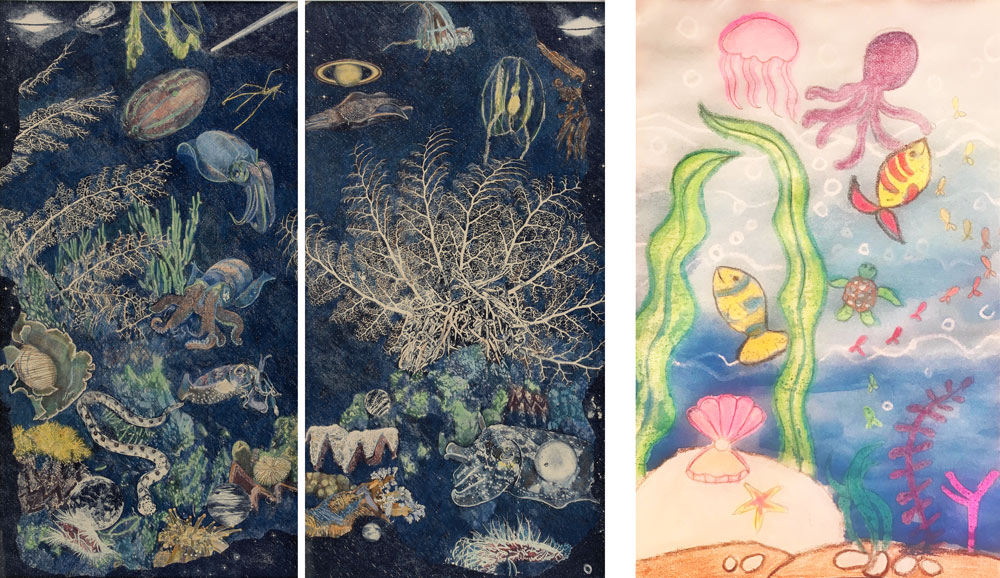 For this week's Heckscher at Home Kids Edition, we will be learning about artist Ann McCoy and her piece The Night Sea, which is from the Museum's permanent collection. Then, Lisa Sayedi, Lead Museum Educator, will guide you every step of the way as you discover, imagine, and create your own underwater/outerspace artwork!
Watch Full Instructional Video Below!
Project Overview:
First, we will learn about Ann McCoy and uncover details together as we look closely at her work of art. After getting inspired by her diptych The Night Sea, we will get creative and make our own artwork using paper, crayons, and paint to explore the crayon resist process! (If you don't have both crayons and watercolor paint on hand, no worries, this project can also be created as a painting or drawing.)
Materials:
white paper
pencil
crayons
watercolors
brush
Key Concepts:
Diptych
Details
Imagination
Overlapping
Crayon resist
Discussion:
Taking a closer look at our inspiration artwork, let's make observations about details that you notice.
Does this look like one work of art, or two? What do you see that makes you say that? This is actually what we call a diptych, which means a work of art with two parts. As you can see, there is a space, or gap between the two halves of this work of art.
What type of place did this artist put is in? What do you see that makes you say that? What animals do you see? What plants do you see? How can you tell that some parts of this artwork are closer to us than others? Can you find any examples of overlapping, or placing one image or object in front of another?
Why do you think the artist called this artwork The Night Sea? Do you see any details in this artwork that feel like nighttime? Do you see any other unexpected details? Can you find any details that look like they belong in outer space, not under the sea? What is similar about being in outer space compared to being deep under the ocean? What is different? What made it difficult to see these details at first?
Share!
Please share photos of your finished works of art with us on social media and we will post some of our favorites here. And check back next week for our next project! #HeckscheratHome #MuseumfromHome