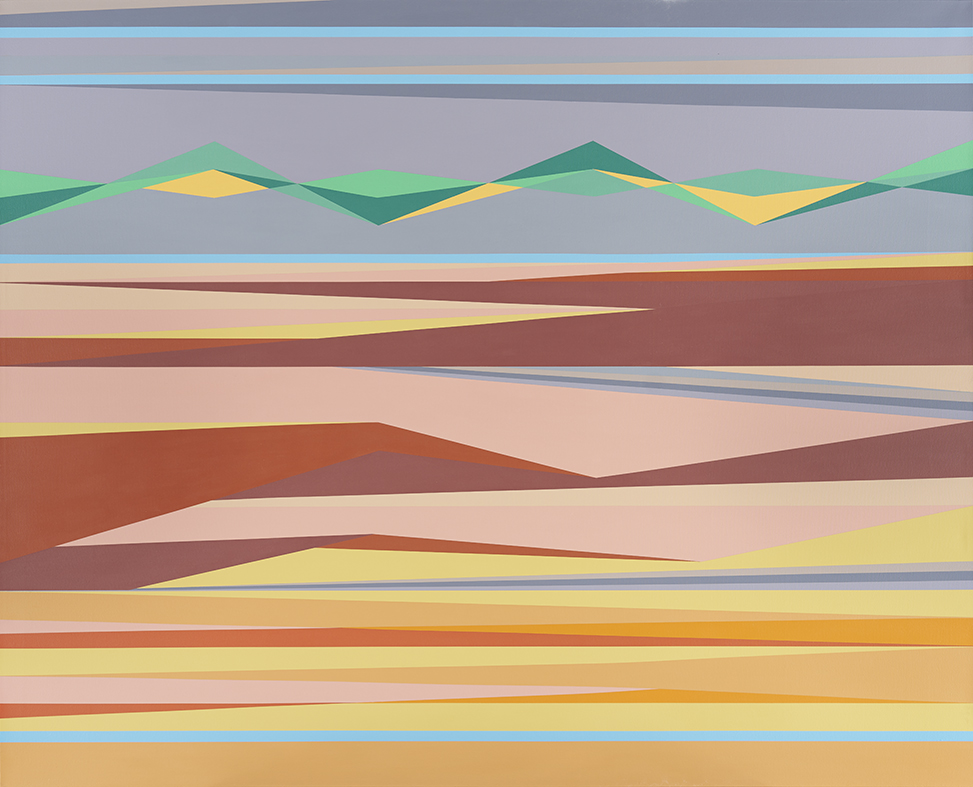 While celebrating its history in The Heckscher Museum Celebrates 100, the Museum is looking toward the future with acquisitions that assert its commitment to diversity, equity, and inclusion. One of the galleries in the Museum-wide Centennial show features newly acquired, dynamic works of art.  A notable addition to the collection is a work by artist Odili Donald Odita.
Nigerian-born artist Odita grew up in Ohio and lives in Philadelphia. He is best known for his large-scale canvases with kaleidoscopic patterns and vibrant hues, which he uses to reflect the human condition. Odita's art is inspired by a sense of dual identity, combining aspects of Western modernity with African culture.
"Dynamic new acquisitions advance the Museum's commitment to diversity, equity, and inclusion in our collection and in our programming. They allow us to tell more complete stories about contemporary American art. As we celebrate the 100th anniversary of the Museum's founding, these paintings invite us to see and interpret our historic collection in new ways," said Curator Karli Wurzelbacher.
Other acquisitions featured in The Heckscher Museum Celebrates 100:
Robert Carter's mixed media work, Mama Taught Me Piano and Much More, 2007, is characteristic of his detailed approach that often depicts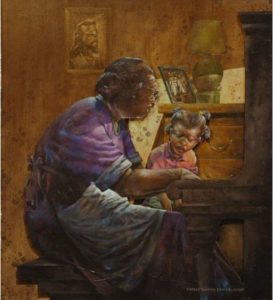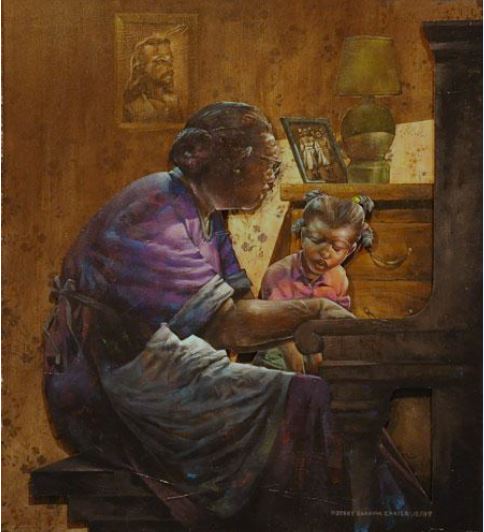 children and connections between generations as themes. Carter was the first African-American artist to present a solo exhibition at The Heckscher Museum.  He has been an art professor at Nassau Community College for more than 50 years, and recently served as a judge at the 2018 Long Island Biennial.
Gabriela Gonzalez Dellosso, Stella Waitzkin, and a painting of Venice by Samuel Colman were announced earlier this the year.
Beyond the Centennial, three artists were added to the collection:
Laylah Ali is known for her series Greenheads, characters designed to minimize or eliminate categorical differences of gender, height, age, and race. Her work was gifted from the collection of Ninah Lynne.
Finally, two Long Island Biennial 2020 artists are now part of the collection, Glen Hansen and Claire Watson.