Outreach into the community is a high priority for The Heckscher's Museum Discovery Programs! These long-standing Arts-in-Education programs serve K-12 students and teachers across Long Island both in the Museum and the classroom. Despite the challenges of this school year, the Education and Visitor Experience Department was determined to re-envision the Museum's school program offerings and create fresh new virtual programs for 2020-2021! "Kids need art more than ever during this difficult time," says Director of Education and Public Programs, Joy Weiner. 
Silas Wood Sixth Grade Center in South Huntington School District was one of the first schools to sign up for the Museum's new program, Virtual Create and Explore, designed to give middle school students the opportunity to create exciting hands-on projects and learn about contemporary artists, media, and new techniques. Silas Wood has participated in school-side Heckscher Museum programs since 2015, and the Museum is thrilled to continue this partnership despite the challenges of virtual learning.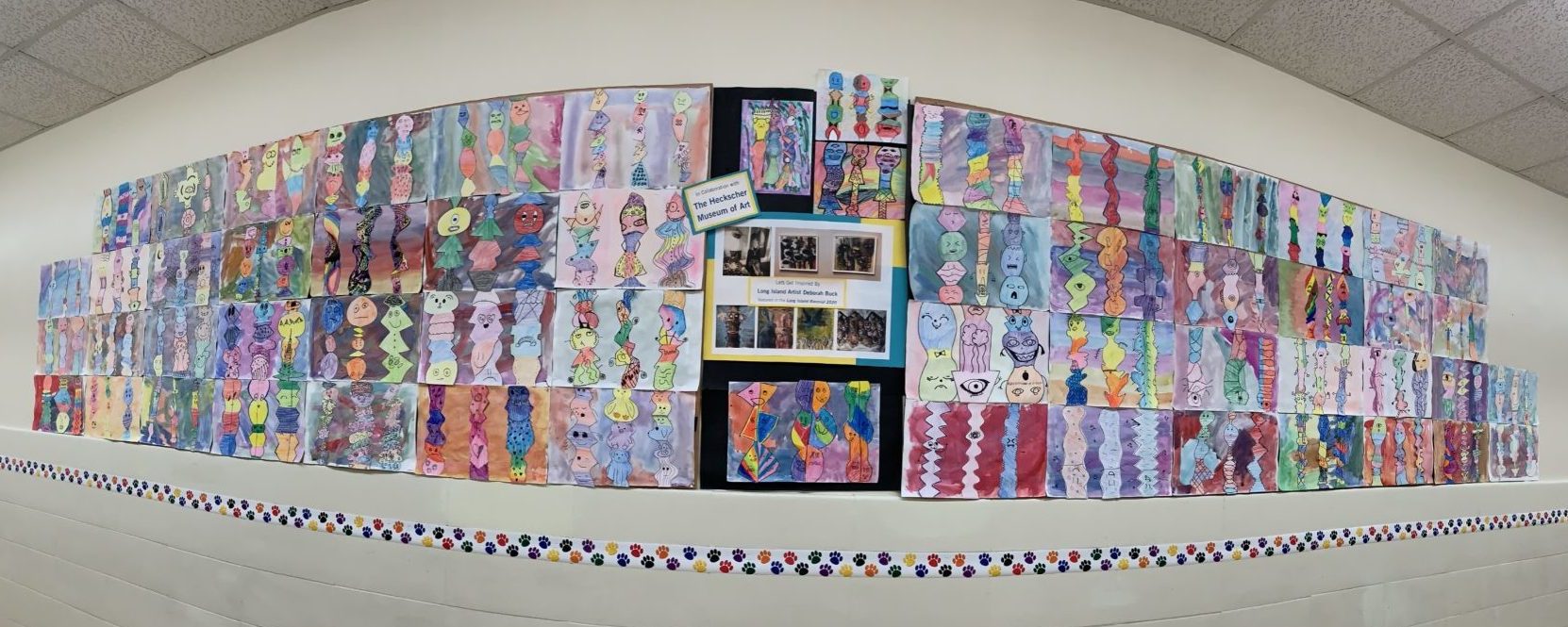 For each virtual visit this year, Museum Educators meet with students live on Google Meet, offering an opportunity to look, discuss, share ideas, and create. Students are inspired by artist Deborah Buck, whose work was on view in the Long Island Biennial 2020 exhibition. Classes learn about her imaginative paintings and unique style. Whether students are in the classroom or learning remotely from their homes, everyone has the opportunity to be connected and express themselves. Students use a combination of drawing, painting, and collage techniques to create their own works of art. When the projects are complete, all student artwork is then exhibited in a beautiful display in the Art Wing of Silas Wood, giving students the opportunity to share their work with the whole school community. "Their creations are bright, beautiful, and captivating!" says Principal Toto.
"This continued partnership between school and museum is a perfect example of how, with a little creative thinking, we can continue to offer high-caliber arts experiences for students," explains Director of Visitor Experience Kristina Schaaf. The Museum will teach the final group of sixth grade students at Silas Wood this May, and looks forward to working with the South Huntington School District again in the 2021-2022 school year!