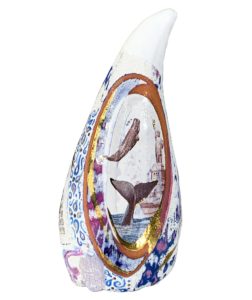 The Heckscher Museum of Art looks towards a bright future under the new leadership of Executive Director & CEO Heather Arnet with a continuing schedule of spectacular exhibitions and programs. The support of art-lovers like you is critical to the Museum's ability to bring inspirational educational initiatives to visitors of all ages – we couldn't achieve this mission without you!
The 2023 Museum calendar has so much in store. A highlight of the year will be the first retrospective of artist Courtney M. Leonard's work.
Courtney M. Leonard, an enrolled member of Long Island's Shinnecock Indian Nation, is among the most original and compelling voices in American contemporary ceramics. Her work amplifies Indigenous cultural traditions and expresses a reverence for the earth and sea while advocating for its protection. Leonard's immersive installations encompass ceramic sculpture, painting, and video. They draw on cross-cultural decorative art traditions including wampum beadwork, scrimshaw, textiles, and blue and white Delftware.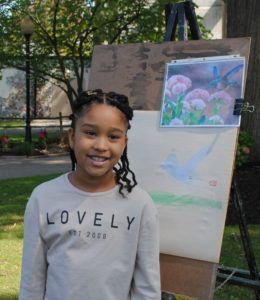 Opening on June 10, 2023, this 22-week exhibition includes loans from private collections, public institutions, the artist's own collection, and will debut a new commission created specifically for The Heckscher Museum's galleries. Titled Contact 2,023, this monumental work maps the contours of Long Island with thousands of individual porcelain "shells" made of clay thumbprints sewn onto canvas. Contact 2,023 will be a sister piece to two other artworks in Leonard's Contact series, one owned by the Metropolitan Museum of Art and the other co-owned by the Los Angeles County Museum of Art and The Autry Museum of The American West.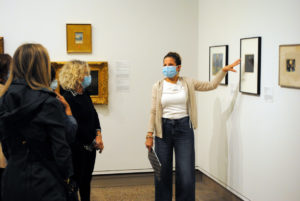 Through this exhibition and accompanying education programs, the Museum will bring inspiring and insightful content to new and current audiences. The Heckscher Museum looks forward to recognizing the work of a renowned Long Island artist whose transformative vision is enriching the Indigenous presence in American culture and art.
Please contribute to the Museum's Annual Appeal and support this Long Island cultural treasure.
Donate online, call 631.380.3229 ext. 710 to give over the phone, or mail your check made payable to "Heckscher Museum" to:
Attn: Development Department
The Heckscher Museum of Art
2 Prime Avenue
Huntington, NY 11743
Thank you to the following generous donors to the 2022 Annual Appeal:
Joan K. Abramowitz
Vito Agosta
Gregory Alexander
Lauretta Alio
Verna & Yoshiaki Amakawa
Heather Arnet
David Aubrey
Winifred F. Baim
Karin & Douglas Barnaby
Jill Bauer (in honor of Elizabeth Halpern)
Susan Beckerman
Amy Berger
Irene Berkman
Alli Berman
Veronica Todaro & Mark Bigelow
Mary Lenore Blair
Cindy Bobrow (in memory of Joel Weidenbaum)
Margaret F. & Joseph Boorstein
Kara-Ann Booth
Pien & Hans Bosch
Barbara Brentano
Colette Buzzetta
Trudy & Tom Calabrese
Thomas Campbell, Sr. (in memory of Carol A. Campbell)
Cantor Fitzgerald Relief Fund
Loriann & William Christian
Joan & David Clemens
Zilan Chai & Johanna Clifford
Dolores Colgan
Barbara & Barry Coller (in honor of Bette Schneiderman and Heather Arnet)
Hanna Nekvasil & John E. Coraor
Laurie & Richard Corey
Anna & Cornelius Cremin
Ellen Crouzet-Pascal (in memory of Edie Markel)
Richard T. Cunniff, Jr.
Chancey M. Dennis
Corinne & Michael DeStio
Karen & Peter Dicke
Sally M. Donahue
Cindy Elan-Mangano (in honor of Philip Ingerman)
Sandra Emmerich
Patricia & Thomas Ernst
Laurie Everitt
Barbara & Robert Festa
Dr. Susan J. Fishbein
Ellen & Charles M. Fishman
Marilyn Fox
Sheila D. Fox
Matthew Frisch
Raymond Germann
Barbara Ann Getz
Holly Gordon
Kathleen M. Grant
Janet Greenblatt
Janet Gritzka
Linda & Charles Gruhn
Susan Guihan Guasp
Robin T. Hadley
Linda P. Halbreich
Margy Hargraves (in memory of Edie Markel)
Richard Hart
Karolyn & Robert Harwood (in memory of Norine E. Lyons)
Steven C. Hearl
Karen & Robert Heathwood
Pat & Frank Hecksher
Margaret B. & Norman B. Hendrix
Jeanne Hewitt
Judy & Tom Hogan
Lynn B. Geisler & James H. Howard
Steve Howley
Priscilla & Robert Hughes
Lesley & John Inglis
Elinor & Donald Jaffe
Virginia Jacobsen
Ronald Janssen
Donna M. & Charles A. Jungreis
Marcia Kaplan
Roshanak Keyghobadi
Beverly & Robert S. Kissam
Rosemary & Peter Kohler
Helga Kramer
Andrea & Neil Kreinik
Dorothea La Vecchia Cappadona
Marilyn & Fred Landman
Caroline Levy & David Lazer
Bruce & Cheryl Lev
Alice D. Link
Christine Machtay
Lois F. & Robert Maller
Patricia & Carl Marcellino
Shannon Mashburn
Patricia Maurides
Laurence Merritt & Michael McLaughlin
Harriet Miller (in memory of Stephen H. Miller)
Debbie & Lee Mittleman
Nina & Robert Muller
Nichoson Foundation
Elizabeth R. & Paul R. Otto
Barbara & Jack Palmadesso
Gary D. Pasquaretto
Mary Anne Pettit
Naldine Philistin
Elena Portela
Mary Porter
Elaine Preston
Quogue Historical Society
Judith Rand
Marcelle & Bernard Reverdin
Nancy Richner
Frank Rizzo
Lisa Mulhall & Thomas Rogers
Roy & Rose Santo Pietro
Bette & Paul Schneiderman
Neil Scholl
Patty Schwarz
Ann Scolnick
Barbara Inglis & Lorraine Shallow
Janice Shear
Marjorie Shukow
Bruce Silverstein
Deborah & John A. Sinkevich
Lucey Bowen & Richard Sites (in honor of Richard Mayhew)
Joyce L. Spencer
Spionkop Charitable Trust
Salvatore Spizzirri
Cui Fei & Jan Staller
Renee & Stephen Steinig
Grace & Bruce Stillman
Carolyn Streitwieser
Marianne & Adrian Taylor
Elina & James E. Thatcher
Anne & Harold J. Thompson
Lily Wagner
William Walton (in honor of Heather Arnet)
Mary & Robert W. Warburgh
Maria Warrack
Judy Wertheim
Jane & Walter Wisneski
Mia Wisnoski
Karli Wurzelbacher
Karen Yasinoski
    List as of 12.31.22