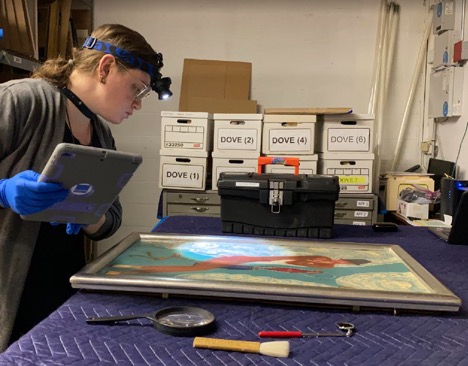 The Heckscher Museum may be temporarily closed to the public, but our mission of preserving and interpreting our collection of 2,300 objects continues. We are now finalizing arrangements for next year's exhibitions, which include The Heckscher Museum Celebrates 100: Tracing History, Inspiring the Future. Art conservation is a critical component of the project. You can help by Adopting a Work of Art!
Even in controlled museum environments, objects age. Exposure to light and atmospheric debris can discolor and damage paintings, sculptures, and works on paper. When an artwork's condition and appearance are impacted, the Museum must conserve the object before displaying it. We carefully examine, or "condition check," each artwork prior to exhibition. When we have concerns, we consult with independent conservators to evaluate possible treatments. As our colleague Christina Zuccari of Moro Studio, Inc., explains: "knowledge of condition issues and their amelioration remains vital to the survival of a work of art. Painting conservation greatly affects the longevity of art, it prevents decay, injury, and protects paintings against other elements of time." 
When we examined the art that will be on view in The Heckscher Museum Celebrates 100, we found that most of the 125+ artworks are in excellent condition. Several objects, however, are in need of care. For example, a painting by Alice Rahon requires cleaning and repair to bring out its original colors. Works on paper that George Grosz used in his teaching are affixed to an acidic support that will continue to damage them over time. 

Frames, which are themselves historic artifacts, must also be maintained because they are key to the presentation and protection of artwork. Natasha Kuzmanovic of Chiarello Art Conservation is now painstakingly cleaning and repairing the frame of Asher B. Durand's Keene Valley (late 1860s), which has been in the Museum's collection for 100 years. She shared that: "The dictum 'first, do no harm,' attributed to the ancient Greek physician Hippocrates likewise applies to art conservation … following conservation treatment, an artwork, whether a painting, object or period frame, should look well maintained: not brand new, not damaged, not neglected." She added: "Besides knowing how to administer specific remedies, a conservator's true talent lies in knowing when to conclude such treatments."
When you visit The Heckscher Museum Celebrates 100 next year, be sure to see the wall labels celebrating the generous supporters who "adopted" artwork!
Explore further:
Learn how museum closures due to COVID-19 are impacting art conservation.
Browse information about art conservation at the National Gallery of Art, Washington, D.C.