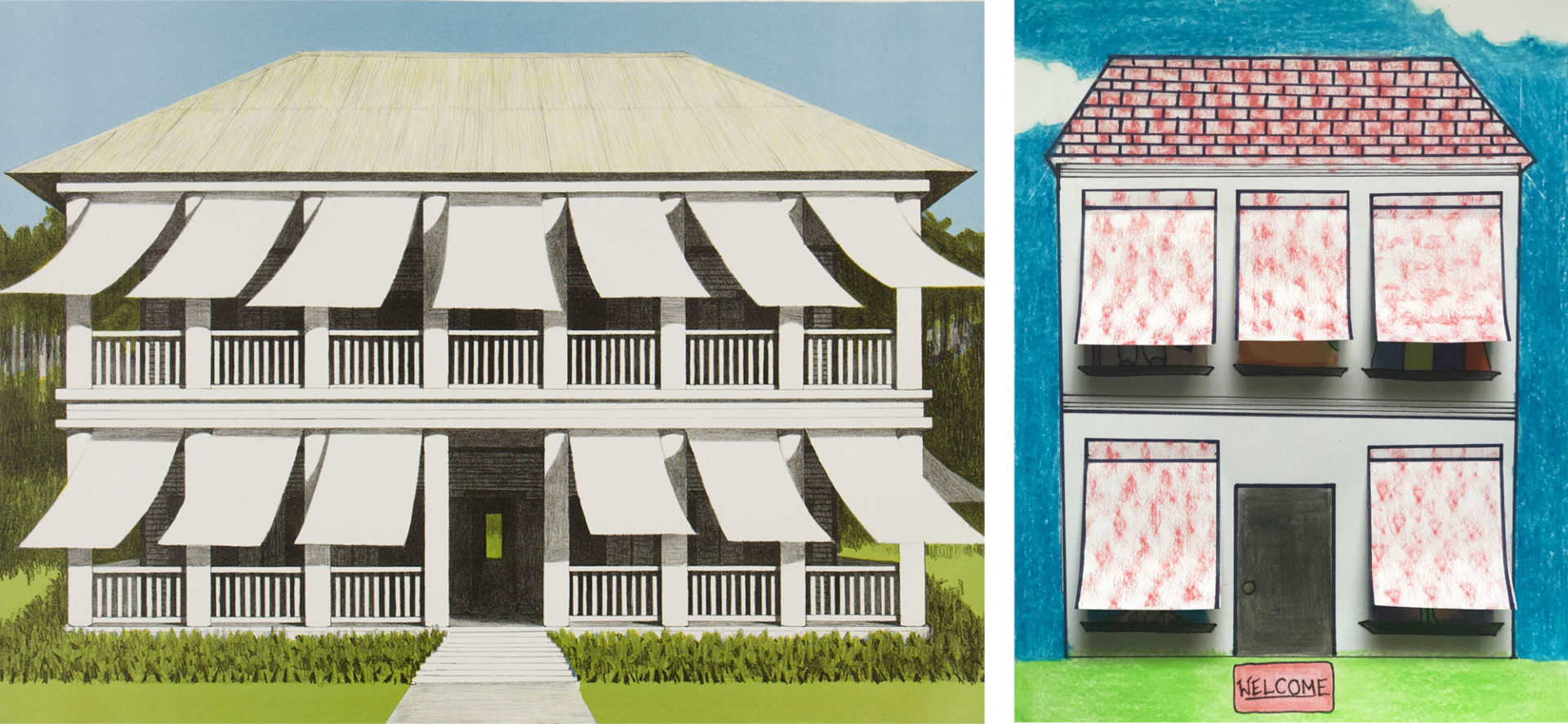 For this week's Heckscher at Home Kids Edition, we will be learning about artist Emilio Sanchez and his piece La Casa Vivienda, which is from the Museum's permanent collection. Then, Museum educators, Alyssa Matthews and Lisa Sayedi will guide you every step of the way as you discover, imagine, and create your own artwork!
View Instructional Video Below!
Project Overview:
First, we will learn about Emilio Sanchez and uncover details together as we look closely at this work of art. After getting inspired by his piece La Casa Vivienda, we will get creative and make our own artwork. We'll be using our imaginations to create a house filled with the past, present, and future!

Materials:
white/colored paper
pencil
eraser
ruler
scissors
colored pencils/crayons/markers
Key Concepts:
details
repetition
texture
symmetry
architecture
composition
Discussion:
Taking a closer look at our inspiration artwork, let's make observations about details that you notice.
This painting by Cuban artist, Emilio Sanchez is called La Casa Vivienda (The House). Emilio is best  known for his paintings of architecture or buildings. Let's take a closer look at this artwork together. Where is your eye drawn to first? When you're starting a work of art, every artist has to decide how to compose their piece. The house is the central focus of Emilio's painting. The setting makes the viewer curious as to where this house might be and who is living there. We don't have any clues to the house's location, because we can't see the background or any people. 
Let's think about your own neighborhood or home, what's similar about your house to Emilio's? Every house has a roof, windows, and doors. Emilio's house appears to be very symmetrical and seems to have the same amount of windows, awnings, and railings on each side of the front door. How does the front of your house look? Is it symmetrical like La Casa Vivienda?
Using Emilio's painting as our inspiration today, we're going to be creating our own houses! You can use your own home or design one like an architect! What details will you include? Part of the mystery to La Casa Vivienda is that we can't see what or who is behind the awnings. Who has lived in your house before you, and who might live there in the future?
Share!
Please share photos of your finished works of art with us on social media and we will post some of our favorites here. And check back next week for our next project! #HeckscheratHome #MuseumfromHome